Video of the trick in action:
What you need
36 double sided cards or puzzle pieces for which it's easy to identify if they are face-up or face-down. Examples:

Squares cut from food packaging boxes (printed outside vs plain inside)
paper (coloured one side vs plain)

A flat area to lay out the cards
Skills needed
Able to count up to 6
Knowledge of odd and even numbers
Activity steps
Please put the cards down in 5 rows of 5 columns. You'll end up with a 5 x 5 grid. Make sure the cards are randomly face-up and face-down.
Ensure it is a random choice of sides, and have them avoid making a pattern.
I will add another row and column of cards to make it a bit harder - I've been doing this for a while.
In each row, count the number of face-up cards. If that number is odd then add a face-up card to the row, otherwise add a face-down card (this means there will now be an even number of face-up cards in every row). Then do the same for each column. Following this rule, if a line has cards of all the same, the card you add will be the same colour as those cards (since 0 and 6 are even numbers). The corner card (shown) will work correctly for both the new row and the new column.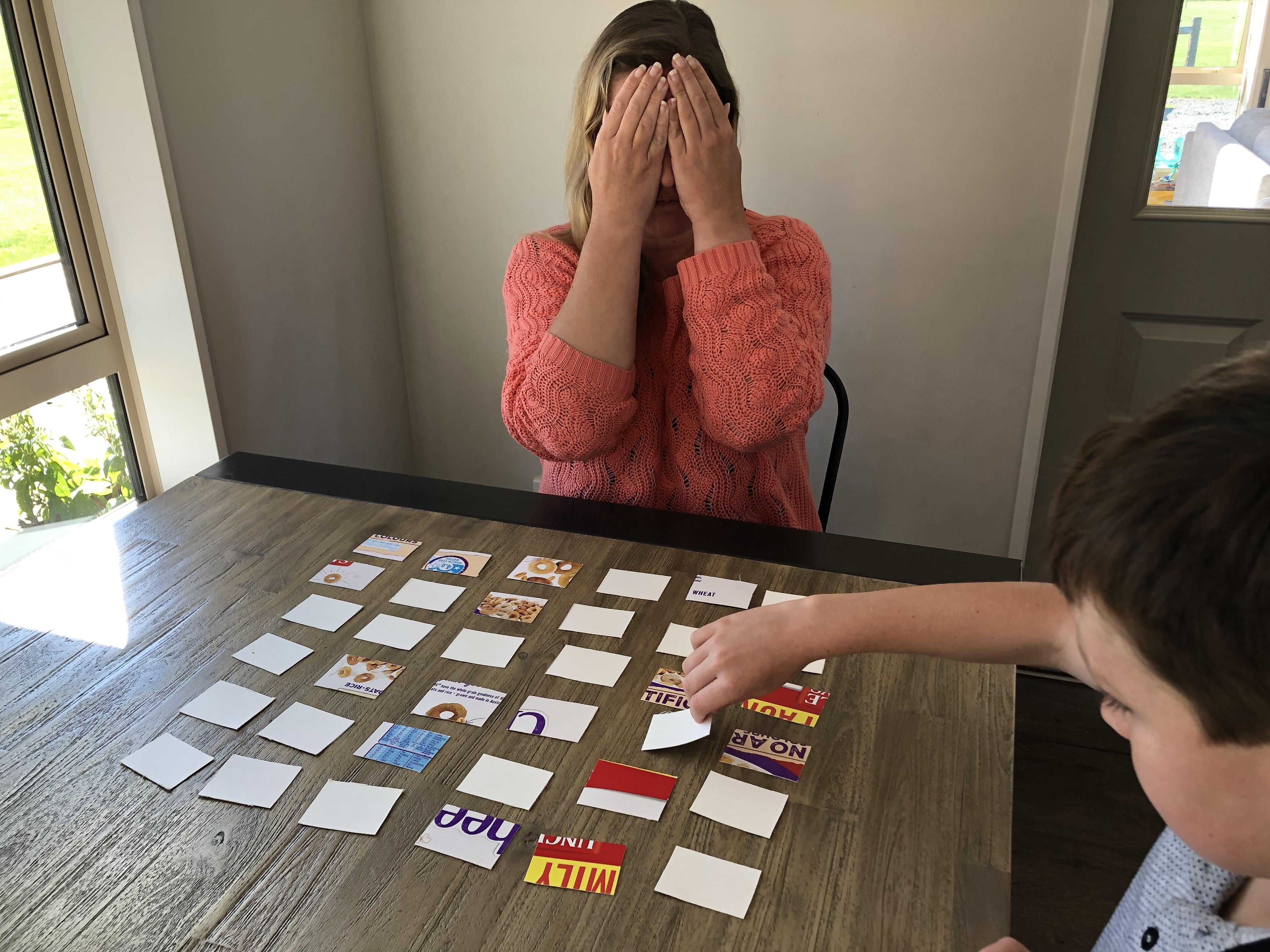 While I close my eyes, please flip over one of the cards. Tell me when you have flipped it. Then, I'll tell you which one you flipped.
Cover your eyes, look away, or you can even leave the room.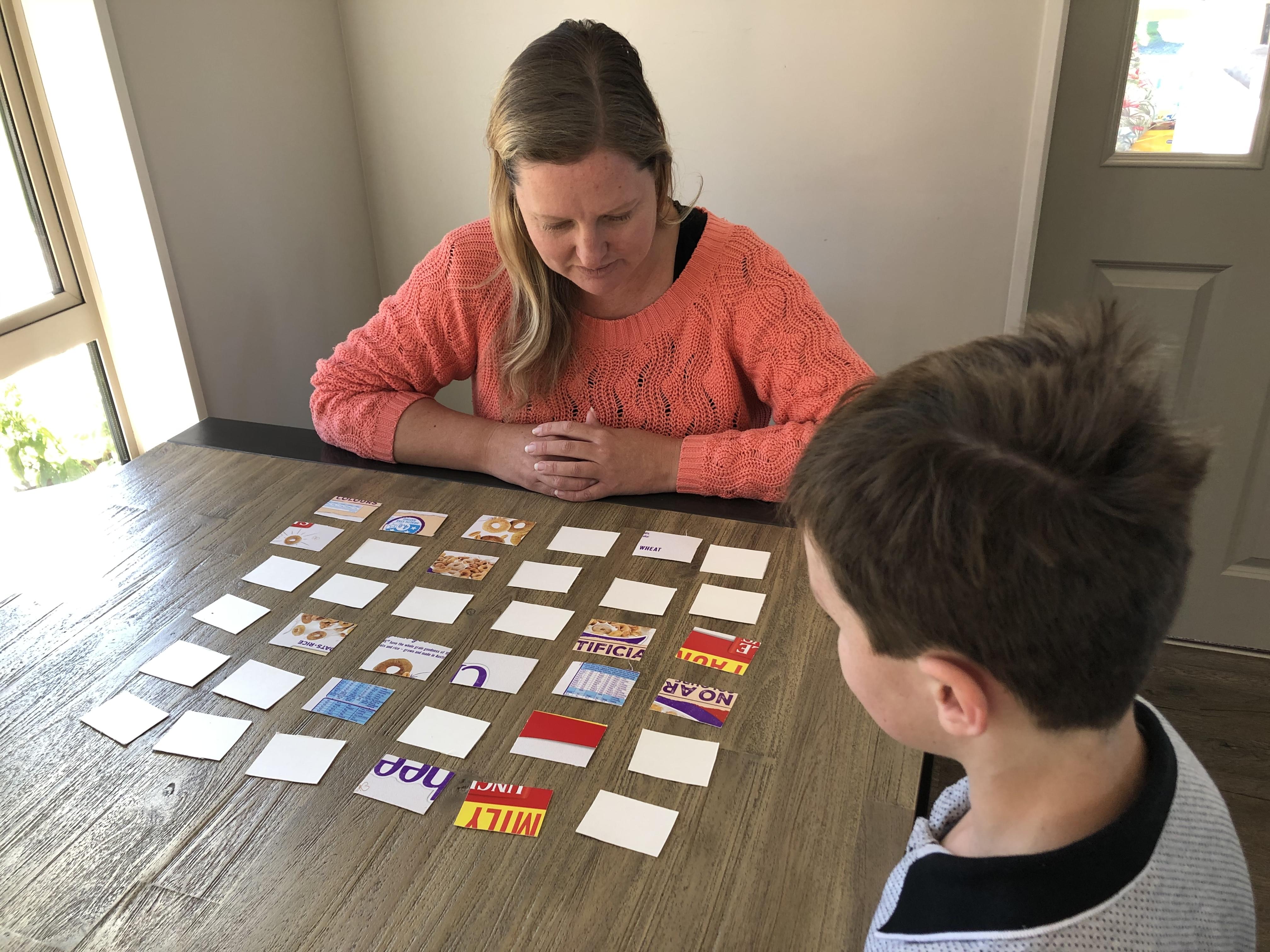 Look at the cards, pretending that you're trying to read their mind or sense which card it is. You are looking for the row that has an odd number of face-up cards, then the column that has an odd number of face-up cards. The single card that is where that row and column meet will be the one that was flipped.
Was it this card you flipped?
Because the rows and columns started with an even number of face-up cards, the flipped card has changed its row and column to an odd number of cards.
I've put it back to how it was. Can you guess how the trick is done?
Flip the card you identified so that all rows and columns will now have an even number of face-up cards. Get them to count the number of face-up cards in each row and column, and help them identify that they are all even numbers. You could remove the cards you added and have them work out how to always make it up to an even number to reinforce the process.
Do you want to try this with a friend?
Encourage them to practise the process first before doing it with someone else, so that they can do it quickly without giving away the trick.
Inside the computer
In this activity each of these cards represents one bit (binary digit). All data on computers is stored using bits, and if one of them changes accidentally because of something like interference on a network or small failures on a disk drive, the computer needs to detect that this has happened, and ideally put it right again.
In this trick, flipping a card simulates a bit being changed, which causes an error in the data. The addition of the extra cards (or bits) before the data is stored or sent over a network is a technique that enables it to be checked, and the computer can fix the errors without us even knowing a problem occurred.
This method of detecting and correcting errors is called "parity"; parity just means "odd or even" numbers; in our trick, an even number in each row and column means things are ok, and an odd number means that things are, well, odd.
Arnold's challenges
Click here to view Arnold's challenges:
Arnold's Challenges
More information
To see more examples of this in action check out these video links.
The parity trick as a street show(!)
This site allows you to practise putting down the extra cards, and you can choose how big the grid is.